Warner Bros. Executive and Emerson Alum Pamela Abdy '95 to Deliver Commencement Address
Announcement
Boston, MA —
Emerson College, the nation's premier institution for the arts, communication, and the liberal arts, announces its commencement speaker, honorary degree recipients, and Commencement information for 2023. On Sunday, May 14, during Emerson College's 143th Commencement Ceremony, the College will honor four award-winning executives, innovators, and Emersonians for their contributions and efforts to the arts, communication, and greater humanity. Warner Bros. Pictures Group Co-Chair and CEO Pamela Abdy '95; veteran Boston-based journalist Meghan Irons '90, Emerson Kasteel Well Executive Director Dulcia Meijers, and Emerson Trustee and former Chairman, and Vice President of Sunshine Wireless Company, Jeffrey Greenhawt '68 will each receive honorary Doctor of Humane Letters degrees. Abdy '95 will give the commencement address.
Approximately 1,047 undergraduate students will receive their degrees during the Commencement Ceremony that will be held at the Agganis Arena at Boston University, 925 Commonwealth Avenue. The Ceremony will begin at 10:00 am on Sunday, May 14 and be streamed live at emerson.edu/live. Graduate Hooding Ceremonies for the School of the Arts and School of Communication will be held the day prior at the Paramount Center on Emerson's campus beginning at 2:00 pm.
Pamela Abdy serves as Co-Chair and CEO of Warner Bros. Pictures Group, encompassing Warner Bros. Pictures, New Line Cinema, DC-based films and Warner Animation Group. Abdy shares oversight of the Studio's global theatrical production, marketing and distribution operations, which set a new high watermark for the industry early in 2022 with the record-shattering success of the acclaimed blockbuster The Batman. Prior to joining Warner Bros., Abdy served as MGM's Motion Picture Group President, overseeing development, production and post-production for all MGM and Orion films. Additional previous roles include Partner and Head of Film at Makeready, President of Production at New Regency, President of Scott Stuber's Bluegrass Films, and Executive Vice President at Paramount Pictures. She is a member of the Producers Guild of America, serves as a Governor on the Executive Board of the Executive Branch of the Academy of Motion Picture Arts and Sciences and is a part of The Hollywood Reporter's Women in Entertainment Mentorship Program. She also serves as a board member of the Los Angeles Dance Project, founded by choreographer Benjamin Millepied.
Meghan E. Irons is an award-winning journalist in Boston. She worked for more than two decades at the Boston Globe, contributing to some of the most consequential journalism in the region and country. She was a member of the Globe's elite Spotlight Team, and was a lead reporter in the Globe's Valedictorians Project, which was a 2020 finalist for Local Reporting for the Pulitzer Prize. The project led to the creation of the newspaper's Great Divide Team, which explores race, class, and opportunities in schools. Irons also had a key role in the launch of the Globe's Fresh Start and Black News Hour initiatives. Irons grew up in Boston and was a member of Emerson College's Class of 1990. She is currently an Associate Professor of the Practice of Impact Journalism at Boston University.
Dulcia Meijers, art and cultural historian, has served as the Executive Director of the College's European Center at Kasteel Well, the Netherlands, since 1992. In addition to many scholarly articles, Ms. Meijers is co-author (with B. Aikema) of the book on poverty and charity in a pre-modern society, titled: Nel Regno dei Poveri. Arte e storia dei Grandi Ospedali veneziani in età, 1474–1797 (1989), and was curator of the loan exhibition De gouden schemer van Venetie (the Golden Twilight of Venice) for the Amsterdam Museum, and author of the eponymous book: De gouden schemer van Venetie. Een portret van de Venetiaanse adel in de achttiende eeuw (1991). For over 25 years, she served on the Board of Editors for the periodical on Dutch Visual Art and Culture, The Netherlandish Yearbook, NKJ (Brill Publisher), and consulted with the city architects of Venice, Italy, on restoration projects, conducting archival research and art historical and architectural analysis of historically important buildings. Since 1986, Meijers has taught many courses at Kasteel Well in the areas of European Studies and Civilization, European Cultural History, Romantic Painting and Poetry, and European Art History. Dulcia, as she is simply known to many Castle Dwellers, continues teaching or co-teaching History of Western Art I: Renaissance and Baroque, and her favorite course, The Story behind Art: Representations of 'Otherness' and the 'Cultural Other'.
Jeffrey Greenhawt was first appointed to the Emerson Board of Trustees in December 1995, and prior, served as chair of Emerson College's Board of Overseers (Advisors). Greenhawt, a member of the Class of 1968, served as Chair of the Board of Trustees from 2011 - 2021. He is Vice President of Sunshine Wireless Company. Sunshine owns and operates media companies, which has included radio stations, radio networks, broadcast transmission towers, and Studio Center, which operates audio-video production facilities across the country.
Photos of honorary degree recipients are available.
Previous Emerson College commencement honorary degree recipients include late-night TV host Jay Leno '73; actor and comedian Denis Leary '79; renowned journalist, author and host of NPR's Weekend Edition, Scott Simon; co-creator of the hit series Friends and trustee Kevin Bright '76; former poet laureate Billy Collins; celebrated civil rights advocate Anita Hill; Pulitzer Prize–winning author David McCullough; and 2016 MacArthur Foundation "Genius Grant" winner, playwright, author and poet Claudia Rankine.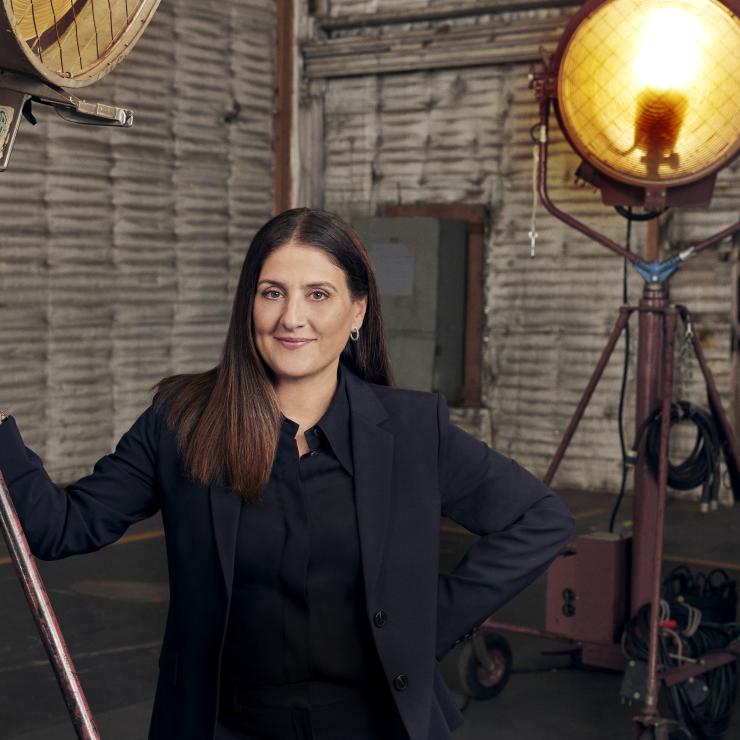 ---
About the College
Based in Boston, Massachusetts, opposite the historic Boston Common and in the heart of the city's Theatre District, Emerson College educates individuals who will solve problems and change the world through engaged leadership in communication and the arts, a mission informed by liberal learning. The College has approximately 4,161 undergraduates and 554 graduate students from across the United States and nearly 70 countries. Supported by state-of-the-art facilities and a renowned faculty, students participate in more than 90 student organizations and performance groups. Emerson is known for its experiential learning programs at Emerson Los Angeles, located in Hollywood, and at its 14th-century castle, in the Netherlands. Additionally, there are opportunities to study in Washington, DC, London, China, and the Czech Republic, Spain, Austria, Greece, France, Ireland, Mexico, Cuba, England, and South Africa. The College has an active network of 51,000+ alumni who hold leadership positions in communication and the arts. For more information, visit emerson.edu.
For more information contact
Michelle Gaseau