Boston, MA —
Emerson College's platform for presenting contemporary visual art, Emerson Contemporary, presents "Subversive Dreams," an exhibition featuring digital video animations by Cuban-American visual artist Allison Maria Rodriguez – showcased on the windows of the Media Art Gallery at 25 Avery Street, Boston. The exhibition runs August 1 through 30, 2020 and is available to view nightly between 6:00 p.m. to 12:00 a.m.
The exhibition is also featured as a Special Project in the AREA CODE Art Fair, New England's first art fair dedicated exclusively to regional artists. Images from the exhibition are available.
"Subversive Dreams" features work from the "Legends Breathe" series, an ongoing project based on interviews with different female-identified and non-binary artists about childhood fantasies that assisted them in overcoming trauma. This project speaks to a strategy of survival activated through the power of creativity and invokes the imaginary, a force that is socially embraced in youth, but suppressed in adulthood.
Each of the six videos, which are installed together as an interactive installation, explores these individual fantasies, highlighting their uniqueness, their commonalities, and their inherent power. One primary element evident in all the fantasies is a harvesting of strength and transcendence through a deep connection to the natural world. The work is populated by endangered species and threatened habitats, conveying a link between the trauma and healing of our planet to that of the individual.
Artist Statement: "There is power in creativity. There is strength in reimagining."
"Subversive Dreams" reclaims the concept of fantasy as a tool of empowerment for social change, not as a method of escapism. Declared worthless in a capitalist society centered around white patriarchal notions of productivity, fantasy and play are the building blocks in creating something new – they are exercises in resistance and in the possibility of reimagining our world.
Operating at the intersection of environmental and social justice, this work also illustrates a harvesting of strength and transcendence through a deep connection to the natural world. It conveys a link between the trauma and healing of our planet to that of the individual. Ultimately, "Subversive Dreams" emphasizes the interconnection of our universe and celebrates the power of the imagination and its crucial role in the process of actualizing new ways of being.
This project was funded in part by a grant from The CreateWell Fund.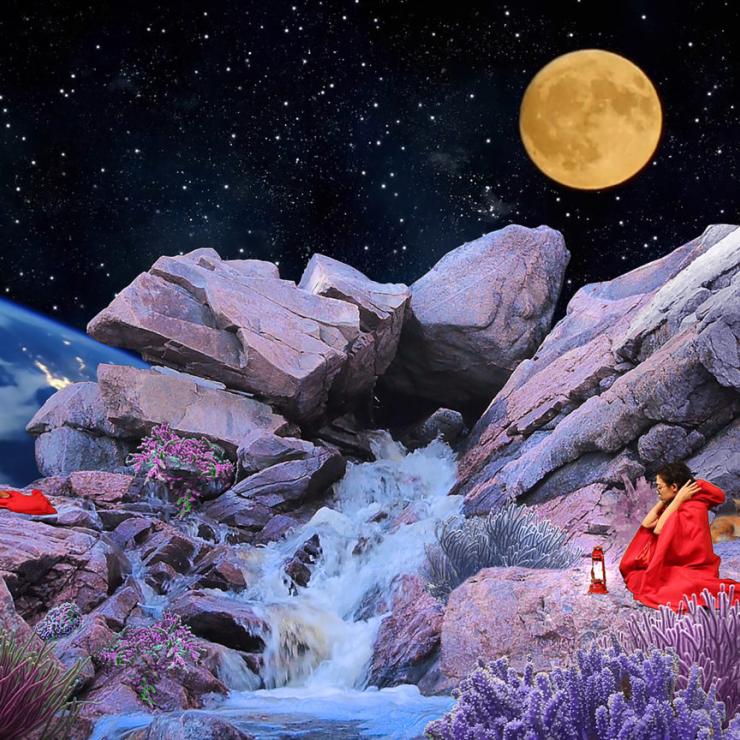 ---
About Allison Maria Rodriguez
Allison Maria Rodriguez is a first-generation Cuban-American interdisciplinary artist working predominantly in video installation and new media. She creates immersive experiential spaces that challenge conventional ways of knowing and understanding the world. Her work focuses extensively on climate change, species extinction and the interconnectivity of existence.
Through video, performance, digital animation, photography, drawing, collage and installation, Rodriguez merges and blends mediums to create new pictorial spaces for aesthetic, emotional and conceptual exploration. She uses art to communicate beyond language – to open up a space of possibility for the viewer to encounter alternative ways of connecting to the emotional realities of others.
About AREA CODE
On view August 1 to 31, 2020, AREA CODE is an inaugural art fair presenting work by contemporary artists with ties to New England. Informed by values of collective intelligence, transparent experimentation, and open access in the wake of COVID-19, the Fair has been developed in collaboration with a volunteer team of Boston-area curators, and will be free for exhibitors and viewers.
Through online and decentralized in-person experiences across Boston, the Fair will feature works from New England's most inspiring art galleries, nonprofit organizations, and individual artists (including recent graduate students) without gallery representation. Along with the Fair's Main Section, AREA CODE will debut curated sections of performance art, drive-in or drive-by outdoor presentations of digital/video art, and storefront displays, along with live programming. For more information: www.areacodeartfair.com.
About the College
Based in Boston, Massachusetts, opposite the historic Boston Common and in the heart of the city's Theatre District, Emerson College educates individuals who will solve problems and change the world through engaged leadership in communication and the arts, a mission informed by liberal learning. The College has 3,780 undergraduates and 670 graduate students from across the United States and 50 countries. Supported by state-of-the-art facilities and a renowned faculty, students participate in more than 90 student organizations and performance groups. Emerson is known for its experiential learning programs in Los Angeles, Washington, DC, the Netherlands, London, China, and the Czech Republic as well as its new Global Portals, with the first opening last fall in Paris. The College has an active network of 51,000 alumni who hold leadership positions in communication and the arts. For more information, visit Emerson.edu.