Exhibition explores motherhood and inter-subjectivity through performance, video, and digital animations
Announcement
Boston, MA —
Emerson Contemporary, Emerson College's platform for visual art, proudly presents EL Putnam: PseudoRandom, a solo exhibition featuring recent works by the Ireland-based video and performance artist EL Putnam on view in the Media Art Gallery at 25 Avery Street, from January 25 to March 26, 2023. Free and open to the public, Wednesday through Sunday from 12:00 to 7:00 p.m. 
The exhibition explores aesthetic encounters through digital performance by implicating the artist, technology, and the viewer. On display will be performative videos, a large scale projection, digital landscape "paintings," and an exploratory series of generative digital animations. Putnam examines performance art beyond lens-based media, while questioning the ways time and space collapsed during the pandemic.
"PseudoRandom provides an intimate look at a working mom's life during the pandemic," said Dr. Leonie Bradbury, Emerson's Distinguished Curator-in-Residence. "For many parents, their professional and personal worlds collided as they were suddenly spending a lot of time with their children and homeschooling while continuing to work. This intense new dynamic was experienced as both a gift and challenge, a dichotomy that the work in this exhibition captures beautifully."
The exhibition is anchored by a large-scale projection All Kinds of Disintegration (2020). Shot in the summer of 2020 using a smartphone, the piece presents a layered collection of short vignettes captured during the first period of COVID-19 lockdown. The maternal is re-imagined in unfamiliar ways though a co-created transformative landscape using performed actions, moving image, and sound. A new video series, Foundations (2022-23), is presented on three individual, yet connected monitors to form a color- saturated triptych. Putnam uses datamoshing, a form of intentional image glitching, to create the dramatic, dreamy visual effects. The artist thinks of the series as a type of digital watercolor painting.
Two performative video works Context Collapse (2020) and Interlooping (2021) explore new virtual performance modalities as all in-person performance opportunities were canceled during the pandemic. Both performances were instead livestreamed for online audiences. Context Collapse was created in response to the many pandemic public health restrictions which caused the closure of schools, workplaces, and other public spaces as people were encouraged to "stay home." This compression of one's personal, professional, and family spheres introduced a new type of context collapse. By contrast, Interlooping addresses the relationship of the performing human with technology, the non-human, and our collective being. EL incorporates wool refuse accumulated during the disruption of the international wool trade in Ireland as a result of COVID-19.
Emergent (2020-2022) is a new series of generative animations developed through Putnam's daily digital sketching practice of creating generative animations through p5.js. Emergent is a portrait of the artist's experience of the COVID-19 pandemic as it visualizes the data tracked through a Fitbit. Instead of focusing on the intended use of the fitness tracker as an accurate record keeper of physical activity, Putnam draws attention to the gaps in data collection, the goals not met, and the capacity of physical activity to exceed sensory quantification.
Additionally, Putnam will perform two new, live performance works Ghost Work and Friction as part of the exhibition programming. Putnam uses wearable electronics as part of her performances to explore our gestural relationship to digital technologies. Mary Gray and Siddharth Suri define "ghost work" as the hidden human labor that powers our digital systems. In the performance of this title, Putnam acts as the human mediator between two generative animation systems, making visible the labor that responds to and produces data, as her body acts as the database of lived experience. A collaborative performance, Friction, created and performed with German sound artist David Stalling, will debut in March.
Events
Artist Reception: Wednesday, January 25, 5:00 to 7:30 p.m. RSVP required on Eventbrite.
Ghost Work, Live Performance by EL Putnam, Wednesday January 25, 6:00 p.m., Media Art Gallery
Ghost Work, Live Performance EL Putnam: Friday, January 27, 12:00 to 1:00 p.m., Media Art Gallery
Friction, Live Performance by EL Putnam and sound artist David Stalling, Thursday, March 23, 6:00 p.m., Media Art Gallery
EL Putnam Artist Talk, Friday, March 24, 12:00 p.m.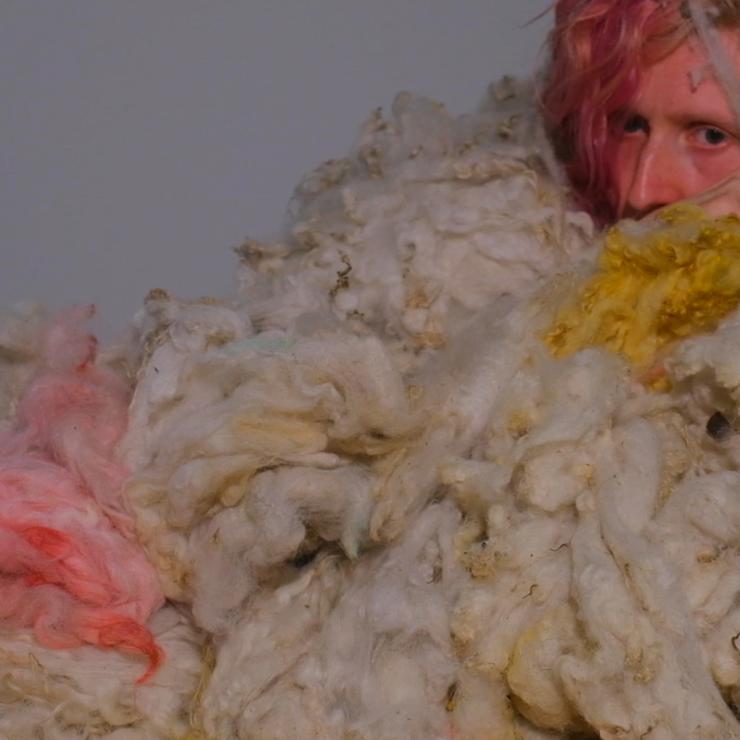 ---
About Emerson Contemporary
Emerson Contemporary is the College's platform for showcasing contemporary visual art. It is focused on presenting living artists, their ideas, experiments and creative practices in the areas of media art, performance art and emergent technologies, while critically examining these works in their social context. Dr. Leonie Bradbury is Emerson Contemporary's Distinguished Curator-in-Residence and the Henry and Lois Foster Chair of Contemporary Art Theory and Practice.
About the Artist
EL Putnam is an artist-philosopher working in performance art, video, sound, and digital media. Her practice focuses on borders and entanglements, particularly the interplay of the corporeal with the machinic. Through her artistic practice, she is interested in exploring hidden histories and emotional experiences, testing the limits of their un-representability as she takes the familiar and makes it strange. In particular, she probes our gestural relationship to digital technology using wearable electronics in live performance, through the creation of responsive multimedia installations, and the crafting of short moving image and sound pieces.
Treating art as inherently participatory, her work opens intersubjective spaces that offer multiple conceptual and aesthetic points of entry for the audience through alchemical diffractions of experience, cultivating new modes of embodiment. In addition to creating works that are rich in cultural and political meaning, including the biopolitics of motherhood in Ireland, she is interested in how aesthetic pleasure can be used as a critical strategy, or as a means of captivating audiences in order to expose them to provocative ideas.
Putnam actively presents artworks and performances in the United States, Europe, and beyond, and has been a member of the Boston-based Mobius Artists Group since 2009. Originally from the United States, she is Assistant Professor in Digital Media at Maynooth University, Ireland and lives in Co. Westmeath, Ireland.
About the College
Emerson College educates individuals who will solve problems and change the world through engaged leadership in communication and the arts, a mission informed by liberal arts learning. The College has approximately 4,200 undergraduates and 550 graduate students from across the United States and about 70 countries. Supported by state-of-the-art facilities and a renowned faculty, students participate in more than 90 student organizations and performance groups. With its main campus in Downtown Boston, Emerson is known for its experiential-learning programs at Emerson Los Angeles, located in Hollywood, and its 14th-century castle, in the Netherlands. Additionally, there are opportunities to study in Washington, DC, London, China, the Czech Republic, Spain, Austria, Greece, France, Ireland, Mexico, Cuba, England, and South Africa. The College has an active network of 51,000+ alumni who hold leadership positions worldwide in communication and the arts. For more information, visit emerson.edu.