Exhibition imagines a better future as it dramatically visualizes extreme weather phenomena
Announcement
Boston, MA —
Emerson Contemporary, Emerson College's platform for showcasing contemporary visual art, presents a new exhibition, Georgie Friedman: Hurricane Lost, on view in the Media Art Gallery at 25 Avery Street, from January 27 through April 4, 2021. The exhibition, which transforms the entire Media Art Gallery into a singular site-specific, fully immersive, sculptural video installation referencing our changing climate and extreme weather, was curated by Dr. Leonie Bradbury, Emerson Contemporary's Distinguished Curator-in-Residence.
The eight sculptural video forms that comprise Hurricane Lost span the gallery's 1,700 sq. ft. floor-plan and rise upwards toward the 20 ft. high ceilings. A soundscape created by indie sound artist Radio Sloan swirls around visitors as they choose their own path through the visual storm. The video forms of Hurricane Lost are based on the shapes of hurricane cloud walls, while their spatial layout mimics the circular wind patterns.
As visitors intuitively navigate the curved video-covered sculptures, they are invited to contemplate their relationship to both the natural and built environment. According to Bradbury, Hurricane Lost inventively addresses the climate crisis not by providing more scientific data, facts, and figures, but rather by enticing a visceral, emotive response through an immersive sound and light environment.
A virtual exhibition tour with the artist and the curator takes place on Wednesday, January 27, 6:30 p.m. followed by a virtual artist talk on Wednesday, February 10, 6:30 p.m. Additionally, Georgie Friedman will be "In Conversation" with community partner Long Now Boston on March 1, 7:30 p.m. Free, rsvp required at www.emersoncontemporary.org
Presented in conjunction with the 2020-2021 national Feminist Art Coalition (FAC) project, the exhibition references our changing climate and extreme weather phenomena from rapidly melting glaciers and resultant sea-level rise, to warming oceans, which increase the intensity of hurricanes and lead to more frequent, and more-often-catastrophic weather events. Visually metaphoric and experiential, Hurricane Lost captures the inherent power of nature and visualizes the effects of our changing climate.
Despite its meditative, aesthetically provocative presentation, Hurricane Lost serves as a powerful call to action as it asks whether we can imagine a different, better future. And if so, whether we are willing to change the way we act and make the choices needed to get us there, Bradbury said.
Emerson Contemporary's Media Art Gallery at 25 Avery Street is centrally located near the Boston Common in the Theater District of Downtown Crossing —and is the only gallery in Boston exclusively focused on moving image art, performance art, and emergent media. For this exhibit, hours are Wednesday - Sunday from 12:00 p.m. - 7:00 p.m., January 27, 2021 through April 4, 2021. To schedule small group visits or for other gallery questions, please email leonie_bradbury [at] emerson.edutitle="E-mail leonie_bradbury [at] emerson.edu"
For exhibition and event updates:Emerson Contemporary|Instagram | Facebook | Newsletter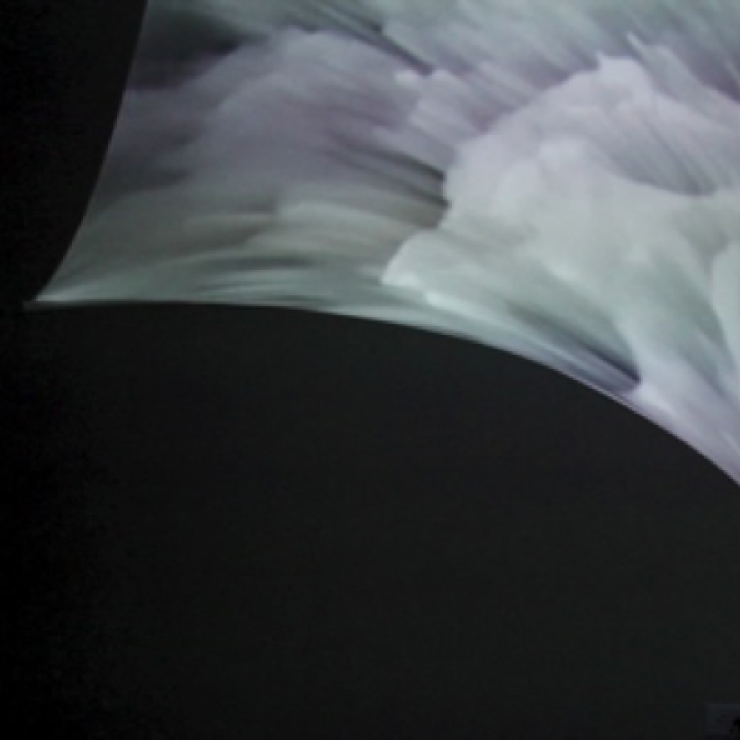 ---
About the Artist
Georgie Friedman (USA) is an interdisciplinary artist whose projects include large-scale video installations, single and multi-channel videos and several photographic series. She is interested in our psychological and societal relationships to mild and severe natural phenomena. She investigates a wide range of powerful atmospheric and oceanic conditions, and is fascinated by the power of these natural elements in relationship to human fragility. She utilizes photography, video, sound, installation, engineering and the physics of light, all in order to create new experiences for viewers.
Friedman is currently based in Boston, MA and has lived, worked and exhibited nationally and internationally. She has been commissioned to create site-specific video-based public art pieces and has exhibited in national and international venues including: Geneva International Film Festival (Switzerland), The Cleveland Museum of Art (OH), Museum of Fine Arts, Boston (MA), Burlington City Arts, City Hall Park (VT), Peabody Essex Museum (MA), Union College (NY), deCordova Sculpture Park & Museum (MA), Boston's City Hall (MA), Transylvania University (KY), The Rose Kennedy Greenway (MA) in partnership with the National Park Service, College of the Holy Cross (MA), and The Armory Center for the Arts (CA).
Friedman earned her MFA from the School of the Museum of Fine Arts, Boston in conjunction with Tufts University and her BA from UC, Santa Cruz. She is a Lecturer in the Art, Culture and Technology program at MIT, and her previous teaching appointments include: Massachusetts College of Art and Design, Boston College, LUCAD, and The School of the Museum of Fine Arts, Boston, among other institutions. Artist's website: http://georgiefriedman.com/
About Emerson Contemporary
Emerson Contemporary is the College's platform for showcasing contemporary visual art. It is focused on presenting living artists, their ideas, experiments, and creative practices in the areas of media art, performance art, and emergent technologies, while critically examining these works in their social context.
About the College
Based in Boston, Massachusetts, opposite the historic Boston Common and in the heart of the city's Theatre District, Emerson College educates individuals who will solve problems and change the world through engaged leadership in communication and the arts, a mission informed by liberal learning. The College has 3,780 undergraduates and 670 graduate students from across the United States and 50 countries. Supported by state-of-the-art facilities and a renowned faculty, students participate in more than 90 student organizations and performance groups. Emerson is known for its experiential learning programs in Los Angeles, Washington, DC, the Netherlands, London, China, and the Czech Republic as well as its new Global Portals, with the first opening last fall in Paris. The College has an active network of 51,000 alumni who hold leadership positions in communication and the arts. For more information, visit Emerson.edu.