Exhibition curated by Emerson College undergraduate students
Announcement
BOSTON, MA —
Emerson Contemporary, Emerson College's platform for presenting contemporary visual art, presents a new exhibition "Perspectives: Micro to Macro" on view in the Media Art Gallery at 25 Avery Street, from November 30 through December 16, 2022. The exhibit showcases a broad range of media by Boston-based emerging artists and includes photography, sculpture, digital video, animation and an interactive installation. Free and open to the public, gallery hours are Wednesday through Friday, from 12:00 to 7:00 p.m.
"Perspectives: Micro to Macro" explores the relationship between humans and nature through a range of aesthetic perspectives. The artists either focus on the microscopic, to investigate the natural creatures that have long been neglected by humans, or shift to the macroscopic, examining the impact of human social and production activities both on ourselves and the environment. The exhibit is a joint effort by artists and audiences to reconstruct the way we live with nature through self-observation and reflection.
The exhibition was curated by 15 Emerson undergraduate students as part of a Visual Media Arts course, "Curating Contemporary Art," taught by Dr. Leonie Bradbury, Distinguished Curator-in-Residence. Students are responsible for all aspects of the exhibition, including exhibition design, a website, loan agreements, the object checklist, educational materials, social media assets, and press materials. 
Access high-resolution images of artworks 
Additional Facts about the Exhibition 
Emerson Contemporary issued a public call for emerging artists in the Boston area. The following 11 artists are showcased: Bridget DeFranco, Zachary Fontaine, Sarah E. Jenkins, Tristan Lajarrige, Alejandro Medina, Marcel Marcel, Sohyoung Park, Sebastian Gonzalez Quintero, Sharon Stanczak, Margaret Wiss, Shannon Yeung.
Curators 
Zhen Chao, Madelyn Domek, Rejeila Firmin, Milani Gosman, Sakura Iida, Brody Menzies, Yang Muxi, Zoe O'Neil, Olivia Ramadas, Katelyn Reddy, Rodrigo Salazar, Katya Shakula, Stephanie Song, Sophie Su, Chenyue Yang.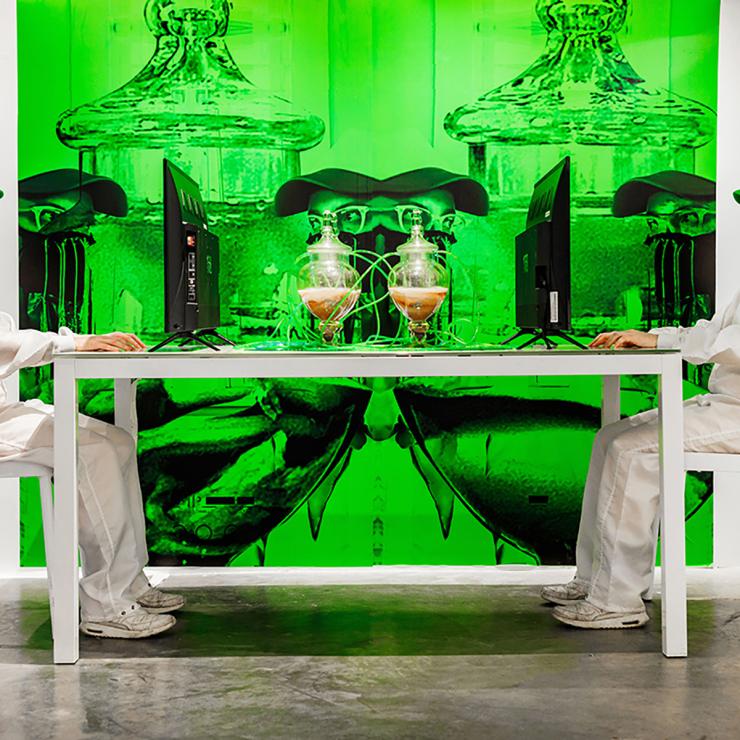 ---
About the Artists
Bridget DeFranco is an artist working in animation and generative systems. She is currently pursuing an MFA in Digital + Media at Rhode Island School of Design, and holds a BS in Integrated Digital Media from New York University Tandon School of Engineering. Her work focuses on representations of nonhuman animal species, uncertain systems of classification, and the stories or worlds that describe them. Read more about the artist at: www.itsbridget.online
Zachary Fontaine is pursuing a degree in art education and fine/studio arts from Montserrat College of Art. His multimedia work explores maximalism and installation through multi-sensory furniture designs. Primarily focusing on the relationship between childhood and adulthood, as well as where a queer identity falls in that spectrum.' Read more about the artist at: www.instagram.com/zack.font_art
Sarah E. Jenkins is a multidisciplinary artist working in stop motion animation, drawing, and social practice. Her work is inspired by post-industrial landscapes, labor, systems, and repetitive processes. She explores visuals, stories, and ideas of coal mining and natural resource extraction and labor that is repetitive and unseen. Her interests stem from her childhood in rural Appalachia. Read more about the artist at: www.sarahejenkins.com
Tristan Lajarrige is a visual artist living and working between Tiohtià:ke/Mooniyang/Montreal and Boston. He holds a Bachelor of Fine Arts in Photography from Concordia University and is currently pursuing a Master of Fine Arts at the School of the Museum of Fine Arts at Tufts University. Tristan has been awarded a Montague Travel Grant, Dean's Research Award, MFA Merit Scholarship, and BFA Shuffle Entrance Scholarship. His work has been exhibited in Canada and the United States. Read more about the artist at: www.tristanlajarrige.com/home
Alejandro Medina is an artist and architect from Guatemala. He holds a Bachelor of Architecture (B.Arch) degree from the University of Southern California in Los Angeles and is currently pursuing a Master of Science (MS) in Art, Culture & Technology at the Massachusetts Institute of Technology. Building on his studies of architecture, photography, 3D visualization and computational design his work lies between the crossing points of different mediums (in a constant interchange between 2D and 3D worlds, and often using a combination of both digital and analog techniques). Read more about the artist at: www.amedina.co
A_Marcel is a speculative conceptual artist based in Boston. Their practice is transdisciplinary and draws from the vernacular of graphic design, critical and queer theory, the theatre of the absurd, music videos, and performance art. A_Marcel's work is a play of text and image, a pitting of the real and surreal, and a disorienting glitch of fact and fiction. Read more about the artist at: www.fsfaboston.com/boundaries-between-amarcel
Sohyoung Park is a multidisciplinary artist based in Boston, New York, and Seoul. She is currently in the MFA program in sculpture at Boston University. She graduated from the School of Visual Arts in New York with a BFA in Fine Art. She primarily works in the mediums of painting, sculpture, installation, and video. Her work combines technological elements, such as mechanical movement and lights, and AR/VR. Read more about the artist at: www.parksohyoung.com
Sebastian Gonzalez Quintero's work focuses on climate change and environmental issues using the moving image, video projection, site-specific interventions and performance. He was raised in Bogotá, Colombia, where he completed his undergraduate degree in psychology and a graduate degree in photography at Universidad Nacional de Colombia. Sebastian also holds an MFA in Film & Video from Massachusetts College of Art and Design. Read more about the artist at: www.sebasgq.com
Sharon Stanczak was born in San Antonio, Texas and lives and works in Massachusetts. Stanczak is a graduate of the University of Houston and received an MFA in Creative Writing from the University of Maryland, College Park, Maryland. She is currently pursuing an MFA in the Visual Arts at Lesley University, Cambridge, MA. Stanczak is a painter and mixed media artist whose work confronts the relationships of power structures that seek to define existence. She finds inspiration in the human form, and architecture. She is interested in issues of vulnerability, gender, fragility and desire, technology and agency. Read more about the artist at: www.sites.google.com/view/sharon-stanczak/about?pli=1
Margaret Wiss is an interdisciplinary artist, and scholar. She grew up outside of Boston to two artist parents. She holds a B.A. in Dance Kinesiology and an MFA from New York University Tisch School of the Arts. Her work draws from her training in dance and her own personal memories of people, places, ideas. Read more about the artist at: www.margaretwiss.com
Shannon Yeung is an artist and designer with a BFA in Art and Design and a BA in Philosophy from the University of Michigan. Her work is interested in asking questions through whimsical forms. She was born and raised in Hong Kong. Read more about the artist at: www.shannonyeung.com
About Emerson Contemporary
Emerson Contemporary is the College's platform for showcasing contemporary visual art. It is focused on presenting living artists, their ideas, experiments, and creative practices in the areas of media art, performance art, and emergent technologies, while critically examining these works in their social context.
About the College
Based in Boston, Massachusetts, opposite the historic Boston Common and in the heart of the city's Theatre District, Emerson College educates individuals who will solve problems and change the world through engaged leadership in communication and the arts, a mission informed by liberal learning. The College has 3,780 undergraduates and 670 graduate students from across the United States and 50 countries. Supported by state-of-the-art facilities and a renowned faculty, students participate in more than 90 student organizations and performance groups. Emerson is known for its experiential learning programs in Los Angeles, Washington, DC, the Netherlands, London, China, and the Czech Republic as well as its new Global Portals, with the first opening last fall in Paris. The College has an active network of 51,000 alumni who hold leadership positions in communication and the arts. For more information, visit Emerson.edu.
For more information contact
Michelle Gaseau