Emerson College and Trillium Partner to Activate Tremont/Boylston Street Corner of the Boston Common
Announcement
Boston, MA —
Emerson College UnCommon Stage and the Trillium Garden on the Common are set to open to the public Thursday, May 4, through October 2023 in a newly created outdoor space located within the Boston Common on the corner of Tremont and Boylston Streets. The highly anticipated venue highlights a new partnership between Emerson College and Trillium, in conjunction with the City of Boston, that brings an outdoor, curated entertainment stage together with the Trillium Garden on the Common to activate an underserved corner of the oldest public park in the country.
The outdoor venue will feature entertainment daily at the Emerson College UnCommon Stage along with award-winning beverages provided by Trillium Brewing at its co-located Garden on the Common. The outdoor garden, which seats more than 400, will offer a variety of beverages and food by Taqueria el Barrio. The garden is open to all.
This entertainment and gathering space is the latest example of Emerson's investment in its downtown Boston campus, which includes renovations to the Little Building at 80 Boylston St. - with seasonal digital light projections - and recent sidewalk improvements along Boylston St. The Garden on the Common is the latest open air beer garden by Trillium, which also runs a similar site at Rose Fitzgerald Kennedy Greenway and several other locations throughout the Boston area.
"The Emerson College UnCommon Stage and Trillium's Garden on the Common will create an exciting, new destination for those working and living in the Downtown Boston area as well as for visitors to the city," said Emerson College Interim President William Gilligan. "It will showcase the best the City has to offer culturally, with a stellar local brewer, in a unique outdoor space." 
"This new venue on the Boston Common will enliven this corner of the historic park with performances that represent all of our citizens of Boston and a new, beautiful outdoor gathering space for all," said Mayor Michelle Wu. "The City is proud to partner with Emerson and Trillium."
The 5,000 square foot space, designed by Elkus Manfredi Architects, will feature daily entertainment and programming ranging from local musicians and WERS 88.9 broadcasts, to DJs and other performers beginning with an initial schedule beginning Thursday - Sunday; the Trillium Garden on the Common will be open 4-9pm Wednesday and Thursday, Friday-Saturday noon-9pm, and Sunday noon-6pm.
"We are thrilled to offer a new entertainment venue for the enjoyment of Bostonians and visitors alike, and showcase a wide variety of acts, music and performances curated by Emerson College," said David Howse, Emerson's Vice President for the Office of the Arts, and Executive Director of ArtsEmerson.
"It's an honor to be chosen by the City of Boston and Emerson College to bring our hospitality to such an iconic place," offers JC Tetreault, co-Founder of Trillium Brewing Company. "We're proud to be part of such a strong team that's beginning to realize the exciting aspirations of the Boston Common Master Plan."
Among the performances scheduled for opening week at the Emerson College UnCommon Stage are:
May 4 - DJ SavSoul, WERS 88.9, and Fabiola Mendez
May 5 - Gabby Cotter, EarthTones ftg Tim & Friends, Albino Mbie, BAMS Fest
May 7 - Tolieth Marks, Nicolas Emden
May 10 - Kenny Mascary, Jason Palmer
May 11 - DJ SavSoul, WERS 88.9, BAMS Fest, YAK Band, and Modular Troupe
May 12 - Gabby Cotter, Jonathan Suazo, and Chloe Swindler
May 14 - Nicolas Emden
Preview photos are available.
Additional information about entertainment and performances can be found at the Emerson College UnCommon Stage website: uncommonstage.org
Information about the Trillium Garden on the Common, beverage, food and opening schedule can be found at the Trillium Brewing: trilliumbrewing.com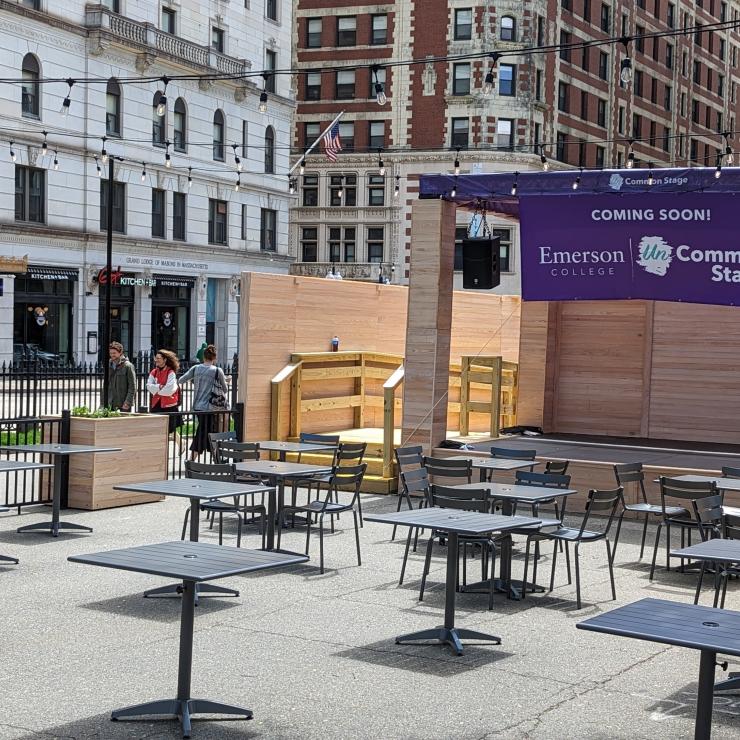 ---
About the College
Based in Boston, Massachusetts, opposite the historic Boston Common and in the heart of the city's Theatre District, Emerson College educates individuals who will solve problems and change the world through engaged leadership in communication and the arts, a mission informed by liberal learning. The College has approximately 4,161 undergraduates and 554 graduate students from across the United States and nearly 70 countries. Supported by state-of-the-art facilities and a renowned faculty, students participate in more than 90 student organizations and performance groups. Emerson is known for its experiential learning programs at Emerson Los Angeles, located in Hollywood, and at its 14th-century castle, in the Netherlands. Additionally, there are opportunities to study in Washington, DC, London, China, and the Czech Republic, Spain, Austria, Greece, France, Ireland, Mexico, Cuba, England, and South Africa. The College has an active network of 51,000+ alumni who hold leadership positions in communication and the arts. For more information, visit emerson.edu.
About Trillium
Trillium opened in March of 2013, by JC and Esther Tetreault with the desire to create a lifestyle and experiences through the lens of a modern New England farmhouse-inspired brewery. Artisanal food & beverages are central to everything we do, and our core values drive the approach to our portfolio: a desire to continue pushing boundaries of experimentation through education;' a focus on hospitality by offering a wide range of options for a diverse audience; and innovation to keep our team excited and engaged.
Trillium operates a production farm in North Stonington, CT; a production brewery, taproom, and restaurant in Canton; a greenhouse-inspired brewery and taproom in Fenway; beer gardens on the Rose Kennedy Greenway and The Boston Common; and a brewery, taproom, and restaurant in Boston's historic Fort Point neighborhood. For more information, visit trilliumbrewing.com.
For more information contact
Rosemary Lavery