Annual exhibition of emerging artists is curated by Emerson students
Announcement
Boston, MA —
Emerson Contemporary, Emerson College's platform for presenting contemporary visual art, presents a new exhibit "Digital Dreams," on view in the Media Art Gallery at 25 Avery Street through December 11, 2020. Curated by Emerson students, the presentation includes a broad range of media by emerging artists: photography, digital video, encaustic painting, 3D modeling, glitch art, 3D printed ceramics, and blown glass.
Digital Dreams articulates the relationship between the human experience and technology through the exploration of the subconscious. The artists explore the subconscious through a wide variety of mediums, from digital video to experimental blown glass, in hopes to describe the indescribable. The results are surreal and visceral pieces built on the emotions and subconscious thoughts of each artist.
According to Dr. Leonie Bradbury, Distinguished Curator-in-Residence, "This alluring exhibition brings to the fore the complex, intertwined nature of digital technologies and how integrated they are in our lives, both physically and psychologically. The selected works remind us of the powerful role artists' imaginations play in bringing a renewed understanding to our world."
The exhibition is curated by nine undergraduate students in conjunction with a Visual Media Arts course, "Curating Contemporary Art," and guided by Dr. Leonie Bradbury. Students were responsible for all aspects of the exhibitions, including: exhibit design, building a website, loan agreements, the object checklist, educational materials, social media assets, and press materials. Curators include: Sarah Callan, Victoria Garcia, Phillipe Legagneur, Chloe Ming, Lillian Noyd, Emerlynn Shibayama, Miles Thornton, Felicia Varlotto, and Isabelle Zacheria.
About the Exhibition: Emerson Contemporary issued a public call for emerging artists in the Boston area. Out of the 38 responses, 15 artists were selected to be showcased: Artist collective The Backrooms Guild, Noor Chadha, Jaina Cipriano, Dalma Foldesi, Stephanie Hubbard, Jung In Seo, Mathew Lapaglia, Wa Liu, Lindsy Marshall, Rebecca Nagle, Lily Oliver, Christopher Rohrig, Ticha Sethapakdi, Kevin Williamson, and Luke Whittaker.
High resolution images and an image list are available. The exhibition is accompanied by a virtual exhibition hosted on the artsteps platform.
Exhibition Themes: Digital Dreams explores the interconnections of technology and the human subconscious through various mediums. From the time we wake up to the time we fall asleep, virtual life is almost ever-present, seeping into the deepest recesses of our minds.
With the rapid changes of our modern era, we might wonder what impact our digital experiences create on our subconscious. Much like technology, dreams can be fleeting, leaving only vague emotions when they are gone. Oftentimes, these emotions are difficult to process. Artists examine these experiences and try to make sense of their dreamworld by using technology as a way to understand these fleeting moments.
The process of creating art mimics the process of understanding one's own emotional and subconscious being. These artists use technology as a crucial element of this process as it is not only a medium for their art, but a means for translating their experiences into tangible realities. Some artists use photography to create surreal portraits of the human mind that draw attention to the subjectivity of our experiences. Others utilize media formats that explore our subconscious emotions through visual and audio depictions of dreamlike states.
Emerson Contemporary is the College's platform for showcasing contemporary visual art. It is focused on presenting living artists, their ideas, experiments, and creative practices in the areas of media art, performance art, and emergent technologies, while critically examining these works in their social context.
Image caption: Wa Liu, Racing Thoughts, Video, 2019 (detail)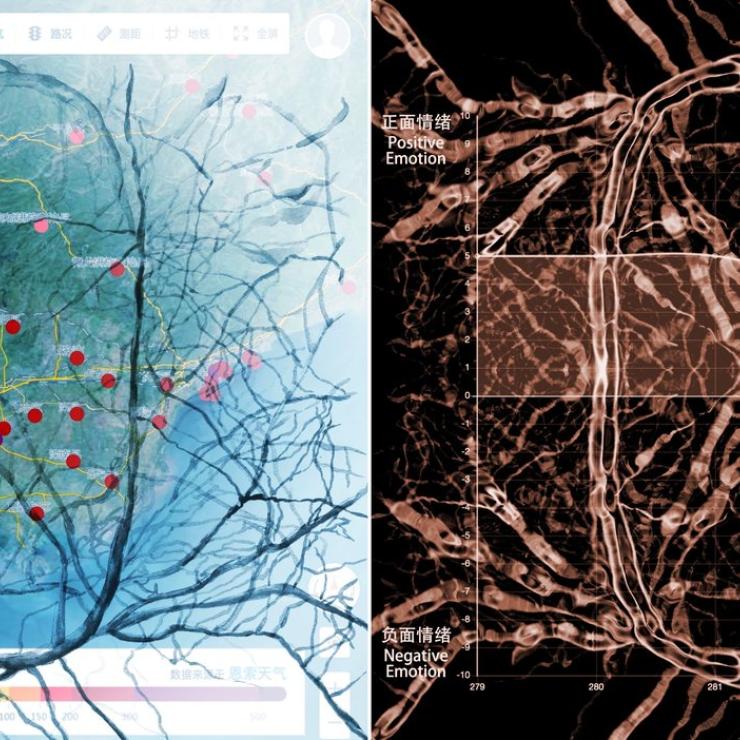 ---
About the College
Based in Boston, Massachusetts, opposite the historic Boston Common and in the heart of the city's Theatre District, Emerson College educates individuals who will solve problems and change the world through engaged leadership in communication and the arts, a mission informed by liberal learning. The College has 3,780 undergraduates and 670 graduate students from across the United States and 50 countries. Supported by state-of-the-art facilities and a renowned faculty, students participate in more than 90 student organizations and performance groups. Emerson is known for its experiential learning programs in Los Angeles, Washington, DC, the Netherlands, London, China, and the Czech Republic as well as its new Global Portals, with the first opening last fall in Paris. The College has an active network of 51,000 alumni who hold leadership positions in communication and the arts. For more information, visit Emerson.edu.