Exhibition explores language, identity and belonging through landscape, visual poetry, and song
Announcement
Boston, MA —
Emerson Contemporary, Emerson College's platform for presenting contemporary visual art, presents "Present Joys," a multimedia solo exhibition featuring visual artist and experimental filmmaker Sky Hopinka, on view in the Media Art Gallery at 25 Avery Street, from September 23 through November 7. Gallery hours are Wednesday through Friday from 12:00 p.m. to 7:00 p.m. Wearing a face covering is required.
An enrolled member of the Ho-Chunk Nation of Wisconsin and a descendent of the Pechanga Band of Luiseño Indians, Hopinka uses personal and collective memories to destabilize traditional colonial narratives and critique cultural systems, such as ethnography, museology and anthropology, that continue to depict indigenous cultures in limited and static ways.
Hopinka combines the power of visual storytelling with an interest in semiotics to illuminate the role image and language – in the form of poetry, songs and historic texts – play in shaping cultural identity. Textural fragments are juxtaposed with symbolic and abstract imagery in video, photography and 16mm film to explore personal and historical understandings of different native homelands, the stories they hold, and their interconnectedness.
Collectively, the works included in "Present Joys," present an ecology of self. They collapse a linear sense of time as historical events are acknowledged as actively informing and coexisting with the present while they shift back and forth. Other in-between potentialities, such as the ways in which landscapes evoke history, language holds culture, and music elicits memories, are thoughtfully layered within each individual piece to add further complexity and nuance.
"Sky Hopinka: Present Joys" is co-presented by the Video Data Bank, University of Chicago, and supported by Emerson College's School of the Arts.
A virtual film screening Sky Hopinka: "maɬni – towards the ocean, towards the shore" takes place on Thursday, October 28, with a director's conversation at 7:00 p.m. More information is available here.
This film follows Sweetwater Sahme and Jordan Mercier's wanderings through each of their worlds as they wonder through and contemplate the afterlife, rebirth and the place in-between. Spoken mostly in Chinuk Wawa, their stories are departures from the Chinookan origin of death myth, with its distant beginning and circular shape.
View press images.
Emerson Contemporary is the College's platform for showcasing contemporary visual art. It is focused on presenting living artists, their ideas, experiments and creative practices in the areas of media art, performance art and emergent technologies, while critically examining these works in their social context.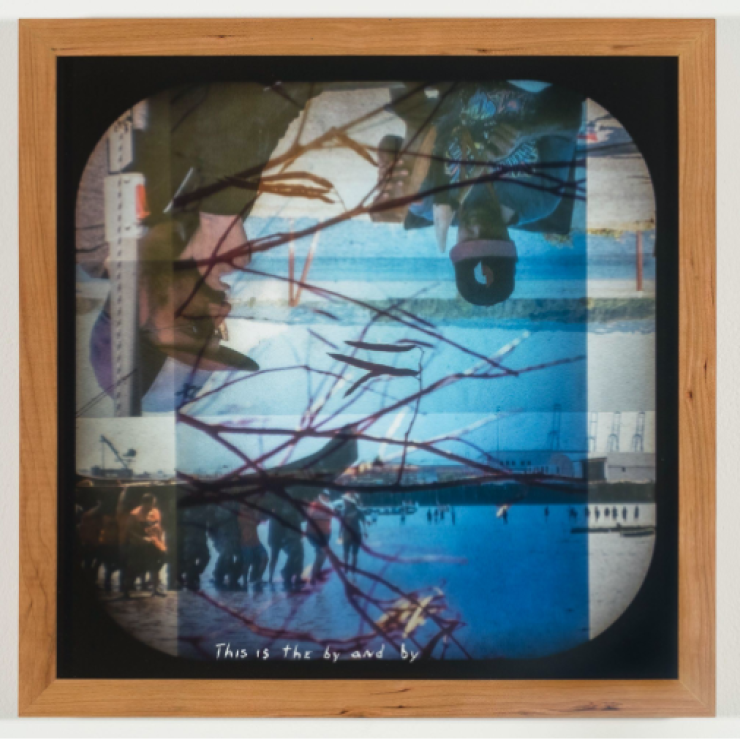 ---
About the Artist
Sky Hopinka (Ho-Chunk Nation/Pechanga Band of Luiseño Indians) was born and raised in Ferndale, Washington and spent a number of years in Palm Springs and Riverside, California; Portland, Oregon; and Milwaukee, Wisconsin. In Portland, he studied and taught Chinuk Wawa, a language indigenous to the Lower Columbia River Basin. His video, photo and text work centers around personal positions of indigenous homeland and landscape, and designs of language as containers of culture expressed through personal, documentary and nonfiction forms of media. He received his BA from Portland State University in Liberal Arts and his MFA in Film, Video, Animation, and New Genres from the University of Wisconsin-Milwaukee. He currently teaches at Bard College in Film and Electronic Arts.
His work has played at various festivals including ImagineNATIVE Media + Arts Festival, Images, Wavelengths, Ann Arbor Film Festival, Sundance and Projections. His work was a part of the 2016 Wisconsin Triennial, the 2017 Whitney Biennial and the 2018 FRONT Triennial. He was a guest curator at the 2019 Whitney Biennial and was a part of Cosmopolis #2 at the Centre Pompidou. He was awarded jury prizes at the Onion City Film Festival, the More with Less Award at the 2016 Images Festival, the Tom Berman Award for Most Promising Filmmaker at the 54th Ann Arbor Film Festival, an Alpert Award for Film/Video, the New Cinema Award at the Berwick Film and Media Arts Festival and the Mary L. Nohl Fund Fellowship for Individual Artists in the Emerging Artist category for 2018. He was a fellow at the Radcliffe Institute for Advanced Study at Harvard University in 2018- 2019, a Sundance Art of Nonfiction Fellow for 2019 and is a 2020 Guggenheim Fellow.
About the College
Based in Boston, Massachusetts, opposite the historic Boston Common and in the heart of the city's Theatre District, Emerson College educates individuals who will solve problems and change the world through engaged leadership in communication and the arts, a mission informed by liberal learning. The College has 3,780 undergraduates and 670 graduate students from across the United States and 50 countries. Supported by state-of-the-art facilities and a renowned faculty, students participate in more than 90 student organizations and performance groups. Emerson is known for its experiential learning programs in Los Angeles, Washington, DC, the Netherlands, London, China, and the Czech Republic as well as its new Global Portals, with the first opening last fall in Paris. The College has an active network of 51,000 alumni who hold leadership positions in communication and the arts. For more information, visit Emerson.edu.