Boston, MA —
Emerson College's Media Art Gallery presents Cannupa Hanska Luger's Future Ancestral Technologies: nágshibi, a multi-media Indigenous-centered science fiction exhibition using creative storytelling to radically reimagine the future and promote a thriving Indigeneity, opening October 17. Nágshibi is the Hidatsa word for 'to be past, to be after' or 'to exceed, to go beyond.' The exhibition, an approach to creating art objects, videos, and performance with the intent to influence global consciousness, includes a 21-foot tall canvas tipi, a two channel video installation, performative video works, photography, and ceremonial regalia created by the artist.
A reception will be held Wednesday, October 16, in the Jackie Liebergott Black Box Theater at Emerson's Paramount Center, 559 Washington Street, at 6:30 p.m., followed by the talk Indigenous Science Fiction, The Imagination and Long-Term Thinking, where artist Cannupa Hanska Luger will be in conversation with author and historian of science Dr. Jimena Canales. The conversation is presented by Emerson's Media Art Gallery and Long Now Boston, an organization that fosters long term thinking. It will be moderated by Dr. Leonie Bradbury, Henry and Lois Foster Chair of Contemporary Art Theory and Practice and Distinguished Curator-in-Residence at Emerson College. An exhibition previewat the Media Art Gallery will follow.
Emerson's Media Art Gallery, located at 25 Avery Street in Boston, is open Wednesday through Sunday from 12 – 7 p.m. All exhibits and related programming are free and open to the public. The exhibition runs through December 15, 2019.
Regarding Future Ancestral Technologies, Nagshibi, Cannupa Luger states: "In this ongoing series, I prototype designs for objects and their use. I test rituals and conduct ceremonies. This project operates with the assumption that these 'artworks' will become customary in the future. I create a space of futuristic vision in which societies are nomadic, tipis are solar-powered, and humans create their own functional regalia to live through ceremony in acknowledgment of land."
About the exhibition
Future Ancestral Technologies debuted in 2018 in the form of an immersive exhibition at the University of South Dakota. A series of land-acknowledgment performative actions have since followed and manifest as video works, several of which will be on view in the Media Art Gallery. The project continues through the prototyping of dwellings, clothing, tools, and videos that illustrate a world in which artificial intelligence and virtual reality support ritual and ceremony. Though currently viewed via exhibitions and in other art world contexts, this project operates under the assumption that these artworks will become useful in the future.
About the artist
Cannupa Hanska Luger is a New Mexico-based, multi-disciplinary artist. Raised on the Standing Rock Reservation in North Dakota, he is of Mandan, Hidatsa, Arikara, Lakota, Austrian, and Norwegian descent. Using social collaboration and in response to timely and site-specific issues, Luger produces multi-pronged projects that take many forms.
Through monumental installations that incorporate ceramics, video, sound, fiber, steel, and cut-paper, Luger interweaves performance and political action to communicate stories about 21st century Indigeneity. This work provokes diverse publics to engage with Indigenous peoples and values apart from the lens of colonial social structuring and oftentimes presents a call to action to protect land from capitalist exploits.
A selection of images can be viewed and downloaded here.
Additional Events Schedule:
Thursday, October 17
5 p.m. - 7 p.m. Artist Reception
6 p.m. Live Performance by Cannupa Hanska Luger
Location: Media Art Gallery

Thursday, October 25
6 p.m. - 7 p.m. "Future Traditions: Theorizing the Native Avant Garde"
Talk by Emerson professor Dr. Adam Spry
Location: Media Art Gallery
What does it mean for Native writers and artists to embrace the avant garde, along with its deep mistrust of the traditional? In this talk, Dr. Spry will discuss the history of the rise of Native American experimental art and literature in the 20th and 21st centuries—and its surprising roots in the U.S.'s efforts to promote the idea of Native artistic 'tradition.'
Thursday, November 14
6 p.m. - 6:30 p.m. Gallery Talk w. Exhibit Curator Dr. Leonie Bradbury
Location: Media Art Gallery
7 p.m. Screening of Warrior Women
Location: Bright Lights Theater, Paramount Center
Warrior Women: Co- presented with Emerson's Bright Lights film series, the Roxbury International Film Festival, the Boston Women's Film Festival and part of the Power to the People series. Directed by Elizabeth Castle and Christina D. King, documentary, English, 65 minutes, USA, 2018. Followed by a discussion with co-director and co-producer Elizabeth Castle moderated by Roxbury International Film Festival director Lisa Simmons.
In the 1970s, with the swagger of unapologetic Indianness, organizers of the American Indian Movement (AIM) fought for Native liberation and survival as a community of extended families. Warrior Women is the story of Madonna Thunder Hawk, one such AIM leader who shaped a kindred group of activists' children – including her daughter Marcy – into the "We Will Remember" Survival School as a Native alternative to government-run education.

Sunday, December 8
2 p.m. - 4 p.m. Indigenous storytelling with Larry Spotted Crow Mann
Location: Media Art Gallery
Join award winning author, poet, and Nipmuc storyteller Larry Spotted Crow Mann as he contextualizes the exhibition with local histories, traditional stories, and poetry. The art of Native American storytelling has been passed down for thousands of years. They give life and meaning to everything in the Universe and offer lessons of love, courage, kindness, respect, humility, truth, and wisdom. The stories teach us the skills to interact with our environment as a living being and codify those teachings within our own existence.
About the artist
Larry Spotted Crow Mann is a citizen of the Nipmuc Tribe of Massachusetts. He is an award winning writer, poet, cultural educator, Traditional Storyteller, tribal drummer, dancer and motivational speaker involving youth sobriety, cultural and environmental awareness. Mann is also a board member of the Nipmuk Cultural Preservation,an organization set up to promote the cultural, social and spiritual needs of Nipmuc people that also serves as an educational resource of Native American studies.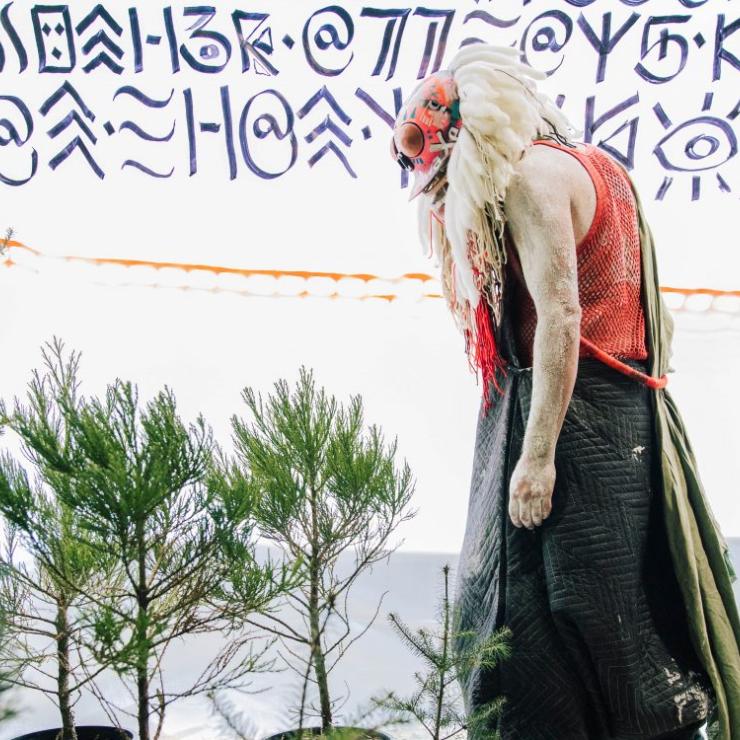 ---
About Emerson's Media Art Gallery  
Emerson's Media Art Gallery, which opened in 2016, offers four to six exhibitions per year, featuring the work of outstanding national and international visual and media artists as well as Emerson's advancements in the fields of emergent digital media, projection mapping, augmented reality, data visualization, and performance art. It will serve as the locus of Emerson College's School of the Arts' Visual Art Program that has brought public art events to the City of Boston.
Funding for the Media Art Gallery has been provided by the Massachusetts Cultural Facilities Fund, a program of the Commonwealth of Massachusetts, administered through a collaboration between Mass Development and the Massachusetts Cultural Council. Additional funding has been provided by the George I. Alden Trust and individual contributors to the Emerson's Media Art Gallery. For more information, visit http://www.emerson.edu/urban-arts.
About the College
Based in Boston, Massachusetts, opposite the historic Boston Common and in the heart of the city's Theatre District, Emerson College educates individuals who will solve problems and change the world through engaged leadership in communication and the arts, a mission informed by liberal learning. The College has 3,780 undergraduates and 670 graduate students from across the United States and 50 countries. Supported by state-of-the-art facilities and a renowned faculty, students participate in more than 90 student organizations and performance groups. Emerson is known for its experiential learning programs in Los Angeles, Washington, DC, the Netherlands, London, China, and the Czech Republic as well as its new Global Portals, with the first opening last fall in Paris. The College has an active network of 51,000 alumni who hold leadership positions in communication and the arts. For more information, visit Emerson.edu.