General Policy
Contracts that include certain terms and conditions (defined below) require prior review by the Office of the General Counsel or their designee and/or the Vice President of Administration and Finance before they can be signed.  Other contracts that meet certain conditions can be signed locally in accordance with the Signatory Authority General Statement. 
College Contracts fall into three categories at Emerson:
Purchase or Lease of Goods & Services,
Grants & Contracts for Sponsored Research, and
Other
This policy focuses on Purchase or Lease of Goods & Services. However, please consult with the Office of the General Counsel for all other contracts that contain certain terms and conditions defined below.
In general, the President and the Vice President for Administration and Finance each have authority to sign contracts on behalf of the College unless the Board of Trustees has reserved the right to approve such contracts under their By-Laws. The By-Laws provide that the Board of Trustees must approve:
The purchase and sale of real estate costing $1,000,000 or more.
The purchase and sale of personal property costing $1,000,000 or more.
A lease of property by the College or to the College for a term exceeding ten years.
The incurring of debts of $1,000,000 or more.
The securing of debts of $1,000,000 or more by mortgage or pledge of real and/or personal property, tangible or intangible, owned or to be acquired by the College
The engagement of public accountants to audit the College.
The construction of new buildings and major renovations of existing buildings of the College costing $1,000,000 or more.
Reason for the Policy
Contracts make commitments of the College.  The primary purpose of this policy is to clarify who has authority to sign contracts and thereby enter the College into legally binding commitments, financial or otherwise.
In addition, the policy seeks to:
Ensure that all agreements meet the College's legal and compliance requirements,
Avoid unintended obligations that are not in the best interests of the College,
Promote accountability and responsibility in those signing contracts on behalf of the College,
Develop an efficient process for contract review and approval and
Contribute to budget certainty by issuing purchase orders for all contracts for goods and services.   
Key Officer to Contact Regarding this Policy
The Vice President of Administration and Finance is the Responsible Official for oversight and implementation of this policy.  Please direct any questions to the Associate Vice President for Financial Business Services.
Related Policies
Procurement Policy: Contact Procurement Services
Independent Contractor Policy: Contact Accounts Payable
Joint Venture Policy: Contact the Controllers Office
Elaboration of the Policy
Types of Contracts

For clarity, Emerson defines all of the below as "College Contracts" and are governed by College policies.

Procurement or Lease of Goods and Services:
The requirements that apply to contracts for procurement or lease of goods and services are set forth in the Procurement Policy. All College personnel are required to abide by the requirements and review process outlined in the Procurement Policy when requisitioning goods and services. Contracts for independent contractors (consultants) are addressed in the Independent Contractor Policy.
Grants and Contracts for Sponsored Research:  
The Office of Research and Creative Scholarship (ORCS) and/or the Office of Corporations and Foundations manage acceptance of grants or other research agreements. The Executive Director of ORCS and/or the Director of Corporations and Foundations will consult with their respective Vice Presidents, the Vice President of Finance and Administration and Office of the General Counsel for any contract of $250,000 or more or contracts with non-standard terms and conditions prior to acceptance.
All other contracts:
Agreements for the purchase, sale, donation, or rental of real estate; employment agreements; agreements for the acceptance and recognition of gifts to the College; agreements that settle claims, disputes or litigation; non-disclosure agreements; agreements authorizing the right to use the College's name, logos, or other intellectual property; liability waivers; student and faculty exchange agreements, and student events. A document need not be called a "contract" to fall within the definition of a "College contract". It might be called a "Memorandum of Understanding," "MOU," "letter agreement," "letter of understanding," "agreement," or "terms of use."  Agreements can be formed verbally and by email exchanges if certain conditions are met.  Thus, one should presume that any kind of agreement or document that places obligations on the College or one of its units is a "College contract" and the appropriate procedures must be applied.
 

Review of Contracts for Goods and Services

Whenever possible, every attempt should be made to use a contract template drafted by the College's attorneys (see Appendix A).  However, when a vendor insists on using their own contract, at a minimum, it will require review by the Procurement Services before it may be signed.

Contracts that do not require additional review (see below) and may be signed at the department level should be sent to Procurement Services with a purchase requisition.

There may be other situations where the General Counsel has previously approved a contract template. If that is the case, and none of the conditions listed below are present, no review is required and the contract may be signed by an authorized individual. 

Appendix C in the Signatory Authority Policy defines who may sign a contract for professional services and Appendix H in the Signatory Authority Policy defines who may sign other types of contracts on behalf of the College.
  
Please refer to this policy before signing any contract or agreement.

Note:  if any of the following is true, the contract will require review by Procurement, the Office of the General Counsel (or an outside law firm if the OGC so directs), and/or the Vice President of Administration and Finance.

The contract differs from the College templates.
The contract payment terms are different from the College standard payment terms.
The contract involves providing confidential or personal data to a third party.
The contract extends beyond one year or renews automatically.
The contract involves use of College facilities by outside organization or group.
The contract involves intellectual property matters, including, but not limited to, copyright or trademark licensing. 
The contract allows the vendor to disclose or promote its relationship with Emerson, including, by way of example, listing Emerson's name publicly, providing Emerson as a reference or using Emerson in a case study.  Such language would also require a review by the designated marketing contact.
The contract terms require advanced payments.
The contract includes clauses that agree to limitation of liability.
The contract involves the payment or receipt of cash or other property valued at $50,000 or more, or may cause the College to incur legal liability of $50,000 or more.  This applies to a single payment as well as payments over multiple years. 
The signer does not understand what they are signing or if they are unsure of their signing authority. 
In addition, the College's Ethics and Conflict of Interest Policy requires College employees to consult the Vice President and General Counsel, regardless of the dollar value of the contract, if there are any actual or potential conflicts of interest.
The proposed vendor or service provider cannot provide a certificate that meets the Colleges minimum insurance requirements (see Appendix B).

Information Technology must review agreements for technology including software licenses prior to acceptance. Departments should consult with Information Technology prior to signing any agreement and note this information on the requisition.
 
Procedure for review of contracts for goods and services

Contracts requiring review should be submitted to Procurement Services with a Contract Routing and Approval Form. Once reviewed, Procurement Services will determine if the submitted contract requires additional review by the General Counsel and or Vice President for Administration and Finance and will send the contract forward as needed. Once it is reviewed by General Counsel or designee, and the business manager and the Vice President overseeing that business unit have duly considered and incorporated as necessary, Counsel's advice, it will either be forwarded to the Vice President for Administration and Finance for review and/or signature or sent back to Procurement Services.
Procurement Services will work with the department to obtain the signature of the contracting party. Once both parties sign the contract, the original executed contract or agreement should be sent to Procurement Services to be kept on file, along with a requisition to generate a purchase order. If a contract is multi-year, a new requisition must be submitted every year for the annual contract amount. 

Please allow a minimum of fourteen (14) business days for the review process to be completed. Please note, more complicated contracts may require longer than 14 business days to review. In addition, if Procurement Services or the Office of the General Counsel recommend changes in the contract language after review, negotiations with the vendor may take additional time.  Complex negotiations can take several weeks or more.  Accordingly, departments should plan sufficient lead time for both the contract review and the possibility of contract negotiation.
 
Student and Student Organizations

Students and student organizations may not enter into any contracts – regardless of amount – in the name of or on behalf of Emerson College or commit Emerson College or any of its funds or facilities without the prior approval and the signature of the Vice President and Dean for Campus Life or their designee.  If additional administrative review is required, please follow the procedure noted above.
 
Contract Retention

Procurement Services is the designated custodian of all contracts for the purchase and lease of goods and services (including purchase orders). Send originals of these contracts to Procurement Services for retention.  The Office of Creative Research and Scholarship and the Office of Corporations and Foundation Relations maintain their fully executed contracts and agreements.  All other contracts should be maintained by the department of origin, as set forth by the College's Records Retention Schedule.
 
Contract Review Process Steps (See Flowchart)

Has the vendor agreed to use the Emerson College agreement without any changes? If yes, am I authorized to sign the contract?  If yes, sign the contract and submit it to Procurement with a requisition.  If no, obtain all required signatures before submitting it to Procurement with a requisition for processing. 
If the vendor has not agreed to use the Emerson College agreement without any changes, complete the Contract Routing & Approval Form and send it to Procurement with a copy of the unsigned contract.  Procurement will facilitate obtaining any additional reviews that may be required and review it for compliance with Emerson College's Procurement Policy. 
After this review, if the proposed contract can be signed as is, Procurement will get it signed by the appropriate party. However if edits are needed, Procurement will work with vendor and requestor to reach a satisfactory resolution.  At this point, Procurement will request a requisition be submitted for processing.

Contract Checklist (for initiators and reviewers)
Before embarking on a contract finalization process, have you:

Check List:

Reviewed the Emerson College Procurement Policy?
Determined the approvals required to complete the contract process?
Reviewed the Emerson College Signatory Authorization Policy especially Appendix C.6.1, C.6.2 and H?
Thoroughly read and understood the contract?
Tried to identify (and quantify) the risks inherent in the contract?
Does my level of signatory authority or approval allow me to execute this contract?
Do I need to obtain the signature approval of a senior administrator to finalize this agreement?
Has the budget for expenses associated with this contract been approved?
Does this contract contain any Personal Identification Information (PII)? If so, please encrypt any emails containing the contract to protect your information and that of the College.
Follow the steps below.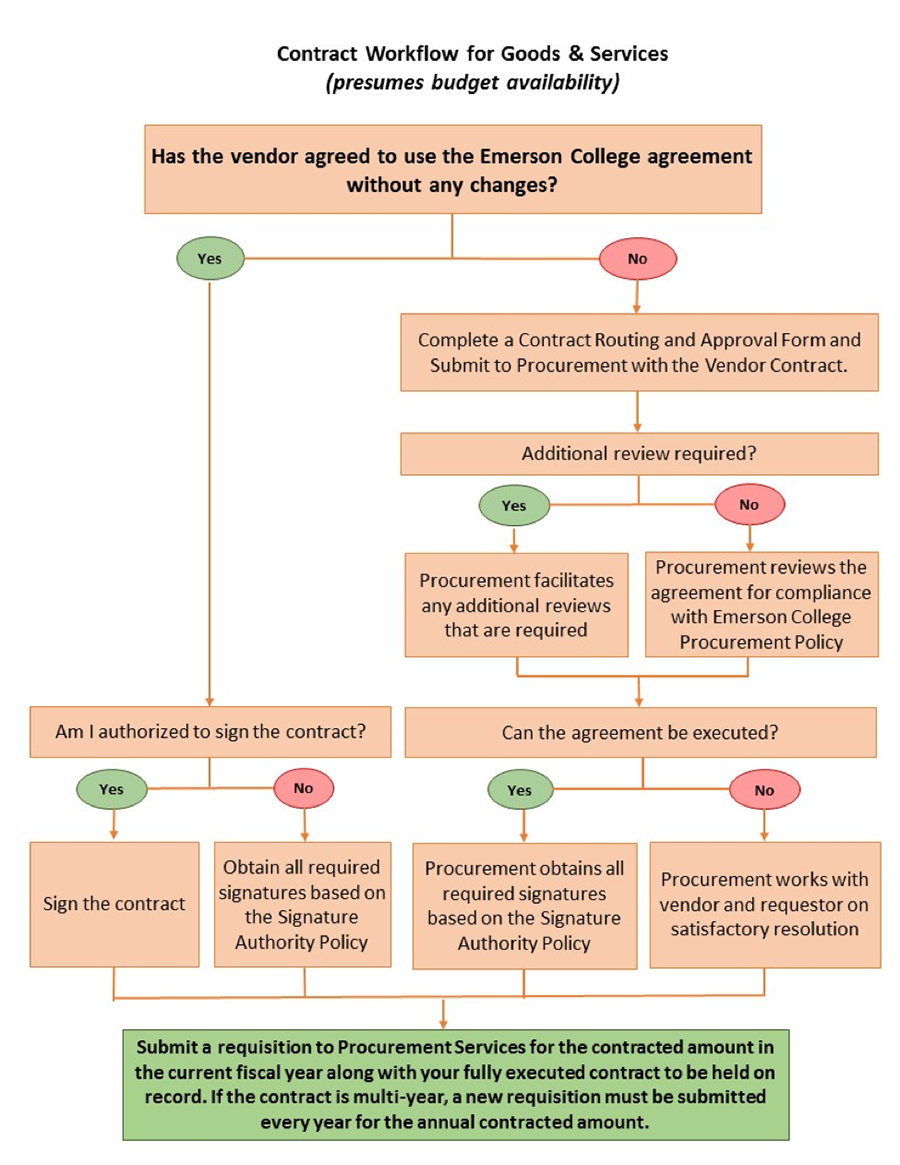 Appendix A
Visiting Speaker/Performer Agreement*
* In development
Appendix B – Minimum Insurance Requirements
 
Minimum Insurance Requirements Matrix
Commercial General Liability including products liability and completed operations liability (including XCU coverage and contractual liability):
 
General Aggregate (other than Products/Completed Operations)
$3,000,000
Products/Completed Operations Aggregate
$2,000,000
Personal & Advertising Injury
$2,000,000
Each Occurrence 
$2,000,000
Automobile Liability for owned, hired, and non-owned vehicles:
Bodily Injury and Property Damage (each accident)
$1,000,000
Workers' Compensation Employers' Liability
Statutory
Employee Dishonesty
$2,000,000
[Contracting Party] shall furnish evidence of such insurance to the College prior to commencement of work that includes Emerson College as an additional named insured. All Certificates of Insurance shall be provided to the Procurement Services, 120 Boylston Street, Boston, MA, 02116. In the event of cancellation of any of the policies, thirty (30) days prior notice of cancellation shall be given to the College.
NOTE: Exceptions to these requirements may be made under very limited or unique circumstances. Such exceptions must be approved after a thorough review by the Emerson College Risk Manager.