2021 Teach-In: March 18 and 19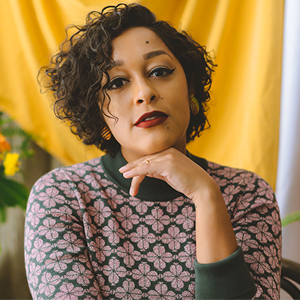 Keynote Speaker
Dr. Eve L. Ewing is a sociologist of education and a writer from Chicago. She is the author, most recently, of the poetry collection 1919 and the nonfiction work Ghosts in the Schoolyard: Racism and School Closings on Chicago's South Side. Her first book, the poetry collection Electric Arches, received awards from the American Library Association and the Poetry Society of America and was named one of the year's best books by NPR and the Chicago Tribune. She is the co-author (with Nate Marshall) of the play No Blue Memories: The Life of Gwendolyn Brooks. She also currently writes the Champions series for Marvel Comics and previously wrote the acclaimed Ironheart series, as well as other projects. Ewing is an assistant professor at the University of Chicago School of Social Service Administration.
Her work has been published in The New Yorker, The Atlantic, The New York Times, and many other venues. Her first book for young readers, Maya and the Robot, will be published by Kokila Books in summer 2021. Currently she is working on her next book, Original Sins: The (Mis)education of Black and Native Children and the Construction of American Racism, which will be published by One World.
Headshot credit: Mercedes Zapata
4:00 p.m. to 5:00 p.m. EST | Panel, "Art and the Art of Survival"
How do we find our footing as creatives while dealing with the challenging circumstances of our present moment? How do we create sustainable art while caring for ourselves?
Panelists: 
Ed Lee, Assistant Professor, Visual and Media Arts; comedy writer, writer-producer of Becoming Eddie
Tatiana Johnson-Boria, Emerson alum; writer, artist
Nathaniel Justiniano, Assistant Professor, Performing Arts; founding Artistic Director of Naked Empire Bouffon Company
Moderator: 
Amy L. Clark, Affiliated Faculty, Writing, Literature and Publishing; author of the story collections Wanting and Adulterous Generation and the novel Palais Royale
5:30 p.m. to 6:30 p.m. EST | Panel, "Organizing for Social Justice"
How can Emersonians become change agents on campus and off?
Panelists: 
Willie Burnley '16, Emerson alum, community activist
Chelsey Cartwright '12, Emerson alum, deputy White House liaison
Third Panelist TBA
Moderator: 
Jabari Asim, Elma Lewis Distinguished Fellow
7:00 p.m. to 8:00 p.m. EST | Panel, "Looking Back, Looking Forward: Study and Struggle at Emerson Through The Years"
What has it been like to be a student of color at Emerson? What has changed? What needs to be improved?
Alumni Panelists: 
Nanci Isaacs '79, President, Alumni Board of Directors
Caroline Rodriguez '20, Communications Coordinator, Nellie Mae Education Foundation
Chala Tyson Tshitundu '18, Assistant Editor, Bon Appétit
Moderator: 
Jessica Chance '00, Associate Director, Emerson College Career Development Center
9:30 a.m. to 11:00 a.m. EST | Keynote Address, "1919 and Beyond"
The keynote address by Dr. Eve L. Ewing will not be recorded but will be open to the public and Emerson community alike. Virtual Doors open at 9:30 am, and the session begins with a performance by the Emerson Skintones, opening remarks from Emerson College President Lee Pelton, and acknowledgments from Jabari Asim, Elma Lewis Distinguished Fellow and Teach-In on Race Coordinator. 
Keynote Speaker: 
Dr. Eve L. Ewing, sociologist, award-winning author, poet, and visual artist from Chicago, Illinois. 
Moderator: 
Porsha Olayiwola, Emerson College MFA Candidate, Creative Writing and Boston poet laureate
11:30 a.m. to 12:30 p.m. EST | Panel, "The POWER You Hold"
A student-led panel discussing different methods of collective organizing and accountability. Followed by an open audience forum detailing what people want to see from us and the school. 
Organized by Student Advocacy Group POWER.
1:00 p.m. to 2:00 p.m. EST | Panel, "The Emerson Prison Initiative: Education as Social Justice"
Does everyone deserve access to education? Why? Why not? What is prison for? How might we reimagine justice?
Panelists: 
Mneesha Gellman, Associate Professor, Marlboro Institute, EPI Director
Cara Moyer-Duncan, Associate Professor, Marlboro Institute, EPI Program Coordinator
Jesse Soares, Former EPI Student
Moderator: 
Kim McLarin, Associate Professor, Writing, Literature and Publishing; EPI Faculty
2:30 p.m. to 3:30 p.m. EST | Cross-Conversation, "Radical Archiving From A Black Feminist Lens: Lifting Up Boston's Black Ancestral Luminaries' Stories"
A conversation among members of our Social Justice Archive Network (SJAN), a project building digital story archives in deep collaboration with communities who have the most to teach us about resilience and liberation. Learn how we collaborate with community and social justice leaders and their descendants of all ages to hold space for radical listening, community-centered archiving and circulation practices. 
Panelists: 
Priscilla Andrade, co-founding member of the Social Justice Archive Network
Helen Credle, co-creator, Elma Lewis Living Stories Archive
A.Z. Hackett, co-founding member of the Social Justice Archive Network
Corine Rosenberg, co-founding member of the Social Justice Archive Network
Moderator: 
Tamera Marko, Director, Elma Lewis Center for Civic Engagement, Learning and Research 
4:00 p.m. to 5:00 p.m. EST | Panel, "Grassroots Organizing For Immigrant Rights and Pro-Immigrant Policy"
Join our conversation with grassroots organizers working for immigrant rights in the United States that recognize that no person can be illegal and our humanity is not temporary. Learn how you can contribute to the work of these immigrant social justice movements. 
Panelists: 
Yessenia Prodero, Massachusetts Jobs with Justice
Juan Pablo Blanco, Massachusetts Jobs with Justice
Ashley Tarbet DeStefano, Assistant. Director for Community Engagement, Elma Lewis Center

Moderator: 
Tamera Marko, Director, Elma Lewis Center for Civic Engagement, Learning and Research