Master of Sciences in Communication Disorders (M.S.)
Ranked among the top graduate programs of its kind nationwide by U.S. News & World Report, our renowned on-campus Master of Sciences in Communication Disorders (M.S.) will provide you with the career-ready skills and hands-on experience you need to make an immediate impact on the lives of people living with communication, speech, language and hearing disorders.
Designed for students interested in pursuing certification and licensure in speech-language pathology, this program gives you the chance to apply developmental, cognitive, psychosocial, behavioral, and medical models to the assessment and treatment of a broad range of communication disorders and differences.
Master of Sciences in Communication Disorders (M.S.) (Online)
Speech@Emerson allows you to earn a Master of Sciences in Communication Disorders (M.S.) without attending classes on campus. You will complete hands-on training at local sites in your area overseen by Emerson clinicians. Our family-centered approach to speech-language pathology education prepares you to pursue licensure as a generalist practitioner, and our curriculum empowers you to serve clients of all ages while supporting their families and caregivers throughout treatment. We welcome aspiring speech-language pathologists (SLPs) with all levels of experience in the field.
Accreditation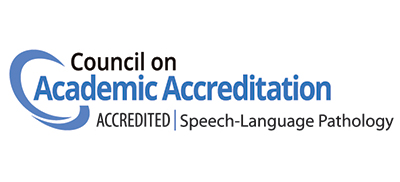 The Master of Science (M.S.) education program in speech-language pathology (residential and distance education) at Emerson College has been placed on probation by the Council on Academic Accreditation in Audiology and Speech-Language Pathology of the American Speech-Language-Hearing Association, 2200 Research Boulevard, #310, Rockville, MD 20850, 800-498-2071 or 301-296-5700. A program on probation is not currently in full compliance with the accreditation standards. Programs on probation remain accredited but must demonstrate compliance with the standards within one year.
Any concerns specific to the program's accreditation status should first be addressed to the program and Emerson College and then to the CAA. The CAA's Accreditation Action Report is available in its entirety at CAA's Recent Decision page.
Last updated on March 28, 2022.