Emerson reports regularly to several sustainability organizations. Find out more about where we are sharing data and how we stand relative to our peers below. 
Second Nature
Since signing what is now known as the Presidents' Climate Commitment in 2007, Emerson has regularly submitted emissions data to Second Nature. Our public reporting can be found in the Sustainability Indicator Management & Analysis Platform (SIMAP) tool.
Association for the Advancement of Sustainability in Higher Education (AASHE)
AASHE Sustainability Tracking, Assessment & Rating System (STARS) is "a transparent, self-reporting framework for colleges and universities to measure their sustainability performance." Every few years, stakeholders from across the College share data with the sustainability office for reporting. You can find our publicly shared information here. 
Emerson earned Gold status in both 2018 and 2022.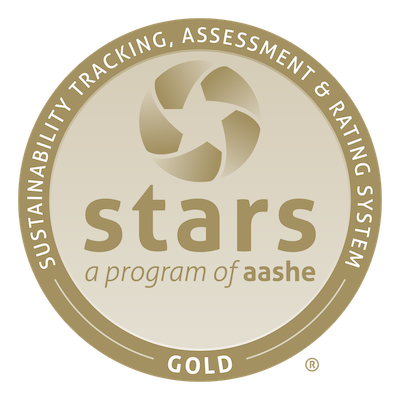 EPA Green Power Partnership
The Green Power Partnership (GPP) is a program under the U.S. Environmental Protection Agency aimed at increasing the voluntary usage of renewable energy. Emerson is listed among the Green Power Partnership 100% Green Power Users because we purchase more than enough wind Renewable Energy Credits (RECs) to offset our campus electricity use. You can check out GPP data here.
Princeton Review list of Green Colleges
Emerson is regularly ranked among the Top 50 Green Colleges by the Princeton Review.
Building Emissions Reduction and Disclosure Ordinance (BERDO)
Boston's BERDO contributes to the city's ambitious Climate Action Plan by serving as a framework for reporting and reducing emissions from large buildings in Boston. Each year, Emerson reports on our utility usage from the previous year. Over time, emissions limits on buildings will slowly decrease. You can find our reporting data using the BERDO map tool here.