Congratulations, and welcome home to Emerson! Already know Emerson is the place for you? You can submit your enrollment deposits and learn about the next steps you'll have to take at the links below. Are you an admitted transfer student? Please visit the admitted transfer students page for more information on your next steps.
In-person Student-led Campus Tours and Information Sessions
Join our students for a campus tour where you will learn more about Emerson's campus, residence halls, facilities, academics, and more! In person campus tours are by appointment only and will include access to select academic buildings, residence halls, and facilities based upon availability. Guests will be required to comply with
campus, local and state health safety requirements
. If you prefer to visit us virtually, check out our daily options.
Go straight to the source as current students share their own Emerson experiences.
Ever wondered what a day in the life of an Emerson undergrad is like? Join some of our students as they take you though classes and co-curricular experiences you'll love as an Emersonian.
Connect with a Counselor
Have an admission related question? Connect with a member of our admission team!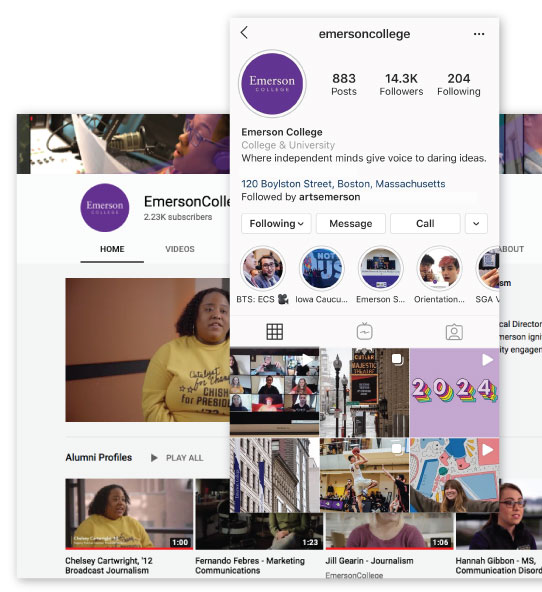 Want to see more?
Want to see what our students have been up to? Emerson's Instagram Highlights are full of takeovers from student events and organizations, and our YouTube channel is home to video content from across the College. Explore them all—and get excited about what's in store for you at Emerson!
For Parents: Choosing Emerson
What Makes Emerson a Good Choice
Hear from Robert Friend, an alum of Emerson College and a parent of a student, talk about the committed faculty and peers on campus, in addition to our fantastic alumni network.
Hear from Robert Friend, an alum of Emerson College and a parent of a student, recount his son's growth through the Journalism program—and learn about our valued community of parents.
Our family ambassadors are dedicated volunteers who help new students acclimate to the Emerson community.